AccessibleTravel in Greece
Some years ago one could say that Greece was not designed f

or "people on wheelchairs"… Not anymore !!!
Now with the interest in helping the handicapped, by people in the travel industry and the government, especially after the Special Olympics Event in 2004, anyone in a wheelchair will be able to visit Greece with confidence.
Our mission is to promote respect, awareness and accessibility for travelers with disabilities. We educate the travel, tourism and hospitality industries on how to become more accessible for individual and group travelers with disabilities. We work vigorously at creating a barrier-free environment throughout all segments of the travel and tourism industry in Greece for Accessible Travel & Hospitality.
We provide information & tips about accessibility & trav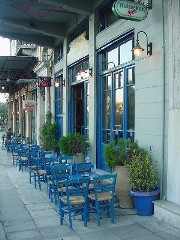 el around Greece.
Restaurants:
Weather you are an individual traveler, planning your own day schedule, or part of a group, enjoying a tour, in Athens or visiting other places around Greece, we want to give you a selection of comfortable and accessible places to enjoy the Greek cuisine.
Archaeological sites: One of our aims is to acquaint you with the accessibility and facilities information relating to the most famous monuments, churches and museums in all Greek cities, of artistic and cultural interest that you wish to visit during your trip.
Acropolis Archaeological site in Athens, is more accessible now since the upgrades for the Olympics. There is now a wheelchair elevator located to one side of the Acropolis. While it's unnervingly steep, it does do the job. Once on the top, expect irregular ground crowded with ancient and uneven marble steps, stones, and fragments. Th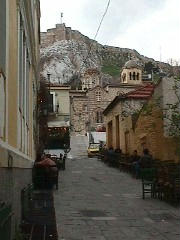 is makes access to the Acropolis and Parthenon itself very difficult and will also be a challenge to those using canes or walkers. Good shoes are absolutely essential. Assistance by one or more people is really essential at this site. For this reason we strongly recomend visit to the NEW ACROPOLIS MUSEUM - totally wheelchair accessible with one of the best views of the Acropolis Hill and the Parthenon.
Plaka: is the the charming older section of Athens, right up against the Acropolis. Unfortunately, this means that while some areas are accessible, promising streets may suddenly become steep around the bend or end in a flight of steps. The shops are generally too small to allow a wheelchair inside, but most of the goods are displayed outside. Most Plaka restaurants have outdoor dining area, which is generally accessible. The pavements are uneven, which can be difficult for those using a walker or cane.
Beaches:
There are many beaches around Greece - some of them accessible for the handicapped. With 13,676 km of coastline, there are lon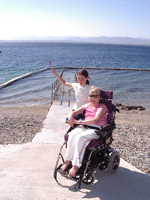 g white sandy beaches with turquoise crystal waters, small beaches surrounded by huge cliffs or pine and palm trees forests, beaches with waters that seem to have had their blue colour mixed with beach, creating an amazing shade. Even in the Athens vicinity we can help you find an accessible beach at
the unique Lake Vouliagmeni that looks like a volcanic crater filled with the bluest water, which is also considered to be a mineral spa that is reported to have many healing properties.
For any questions or additional information, please Contact us: info@accessibletravel.gr