The Healing Mineral Baths of Edipsos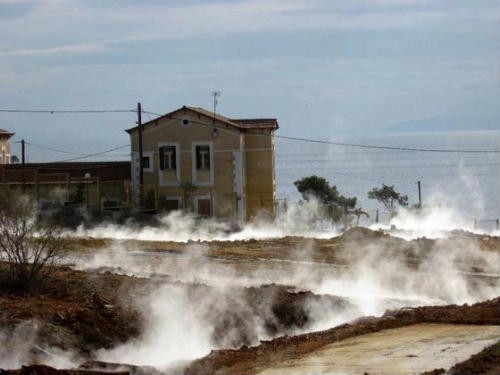 Edipsos is located at the green Northern part of Evia and is one of those unique places in Greece, where one can combine Natural Traditional Therapy, the latest in Thermal Spring Therapy with the beaches and atmosphere of a Greek island, the cosmopolitan atmosphere combined with the healing spas. There are more than 80 individual hot-water-springs ranging from 28 – 86 degrees centigrade, that can be very effective in curing problems like rheumatoid and inflammatory arthritis, spondylo- arthritis, tendonitis and many more.
In Edispsos there are many privately owned spa facilities, baths & pools in Edipsos, most of them in modern Hotels that can provide excellent accommodation as well. One will find Hotel accommodation with brand new spa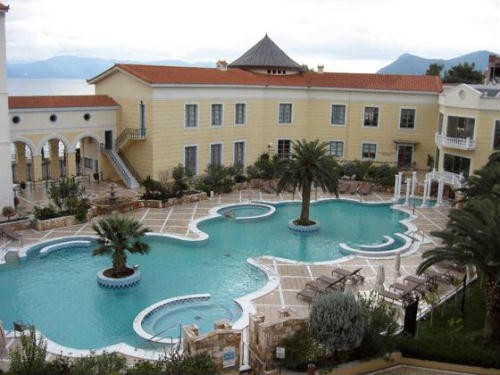 facilities for state-of-the-art hydrotherapy, with 84 individual baths equipped for hydromassage, indoor pool for kinisiotherapy and special bathing and shower installations for treatment of the limbs, slipped disk and cervical spine syndrome. There are physiotherapy centres offering inhalation and electrotherapy, massage with hand and electromassage as well as a fully equipped gymnasium. Outdoor pools on the grounds can be used for bathing in both mineral and sea water. There are steam rooms, saunas and a staff of doctors, nurses, and physical therapists at most hotels.
But Edipsos is not only for healing .... The main street of Edipsos during evenings is closed off to automobiles giving easy access to everyone to enjoy the tavernas and cafes along the shore where people sit and watch the ferries or enjoy summer outdoor movie theatres and lots of shops for people of all ages.
For more information on hotels, rates and availability, reservations and answers to your questions about Edipsos accommodation and travel plans, please Contact us: info@accessibletravel.gr