Loutraki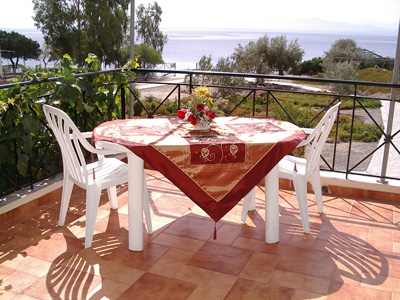 A complex of 5 fully accessible apartments, built by the higher standards to provide easy access to wheelchair users and people with physical impairments. The resort was designed with the disabled traveler in mind and that is why it offers both comfort and easy access in a perfect combination. The place is perfect for family vacation and ideal for children of all ages.
Our apartments sleep from 1 to 8 persons, depending on the particular requests of each of our guests. There are double beds, single beds, raised or not raised beds, and also 1-bedroom or 2-bedrooms or 4-bedrooms apartments to meet your special needs and comfort standards.
All apartments offer: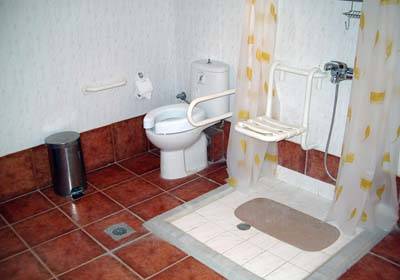 - Fully furnished bedroom, bathroom, living-room, kitchen and balcony
- Ramp entrances
- Wide door openings - No steps!
- Specially adapted bathrooms equipped with the essentials for disabled users (raisedtoilet seat, roll-in showers, holding bars, large space for easy movement of the wheelchair, shower seat)
- Beds and tables adjustable in height
- Large spaces, very convenient for wheelchair users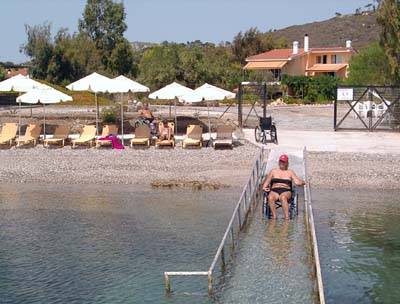 - Electric appliances: kitchen, oven, refrigerator, coffee machine, water boiler
- Air-conditioning
- Satellite TV
- Fireplace
Beach and garden: a marvellous beach s only a few meters away from the apartments. The uniqueness of this resort is the sea-access through a ramp that leads from the beach into the water! Using a manual sea-wheelchair, all guests can easily experience the enjoyable and therapeutic wellness of the famous Greek sea!
In the beach and garden you will find: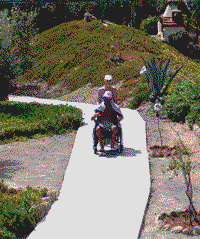 - Sea-ramp for easy and safe access into the sea!
- Sea-wheelchair provided for FREE to all guests
- Fully accessible beach with sun umbrellas and bathing chairs
- Paved pathways all around the garden
- Barbeque in the garden
- Parking area
For more information, rates and availability, reservations and answers to your questions about our accessible-friendly accommodation and travel plans, please Contact us: info@accessibletravel.gr