Accessible Beaches
ACCESSIBLE BEACHES
Region of IONIAN ISLANDS Improves Beach Access
for Persons
with Disabilities
The Region of Ionian Islands has installed special mobility ramps, powered by the sun, at the popular beach of Benitses on Corfu and Skala on Kefalonia to provide swimming access to people with disabilities as part of the ongoing "No Barrier" program.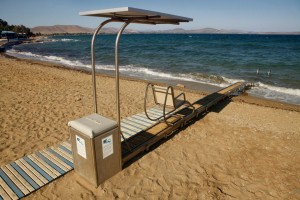 The SEATRAC-technology ramp is a mechanism comprising rails with an attached seat that enables people with physical disabilities to enter the water without the help of escorts. It does not run on electricity and only on solar panels.
The pioneering SEATRAC system of ramps has been designed by a team of experts at the University of Patras (TOBEA company) and is a Greek innovation registered in Europe and the US.
Other interventions at Benitses and Skala to facilitate persons with disabilities include special toilets, specially designed locker rooms, shower, shading areas and special lanes on the beaches.
The Region of the Ionian Islands are planning to launch similar interventions on the islands of Lefkada and Zakynthos in the near future.
"This intervention at Benitses and Skala is just the beginning in reaching our goal of creating a network of fully accessible beaches for persons with disabilities throughout all the islands of the Ionian Region", the vice governor of Employment, Social Welfare and Volunteerism, Alekos Michalas, said.
Posted On 22 Dec 2015
by GTP – Greek Travel Pages